It was good to meet up with you all in our first session. Hopefully you did not find our "marathon" too onerous. Remember, if you have any problems or questions, please feel free to contact me. And many thanks to our volunteer speakers on Savings and the Cobb-Douglas production function who will be guiding us next Tuesday.
For session 2 there will be three big themes:
Theme 1 – More Accounting
We shall examine the output, expenditure and income methods for calculating and cross-checking GDP. This will help you get to grips with the concept of value-added, the importance of distinguishing transfers from productive activities, offer deeper insights into production boundaries as well as recognise the implications of globalisation for measuring income flows.
Theme 2 – From Flows to Stocks
We shall add depth to our GDP understanding by taking a look at flows of funds (financial accounts). For every buyer there is a seller. And when business takes place we should ask questions about how such transactions were financed; the "no free lunch" principle.
In addition to cross-checking GDP calculations, flow of funds analysis offers a vital bridge towards stocks and balance sheets. As we discussed, GDP growth and inflation can only be partial (and often flawed) measures of economic health. Equally important, if not more so, is examining the stresses and strains that might be occurring because of growing debt burdens and sector imbalances. If we learnt anything from the Great Financial Crisis of 2007-09, it is that we should never take finance for granted.
By looking at the difference between assets and debt we arrive at a concept called "net worth" which, in national income accounting speak, is called national wealth. Effectively, it is a $ measure of a country's total non-financial assets plus net claims on (or by in the US's case) the rest of the world. At a macro level, financial assets always have a counterpart liability (debt or equity) so these all cancel out. At the sector level you can either focus on direct holdings of non-financial assets (as with the diagram below) or, in addition, you can record that sector's holdings of, say, government debt and corporate equity.
In the Federal Reserve's Z1 Financial Accounts series, data to support both approaches are available (notably tables B.1 and S.2.a). For a guide on interpretation you are strongly recommended to read US Net Wealth in the Financial Accounts of the United States, FEDS Notes, 8 Oct 2015.
As you can see from the Fed's chart (and the update below), US net wealth has recovered sharply from recession levels and has reached new highs. This largely reflects the rebound in property and share prices. Whether that rally continues remains to be seen. The maths deliver an inconvenient truth: if asset values sink, so does your wealth!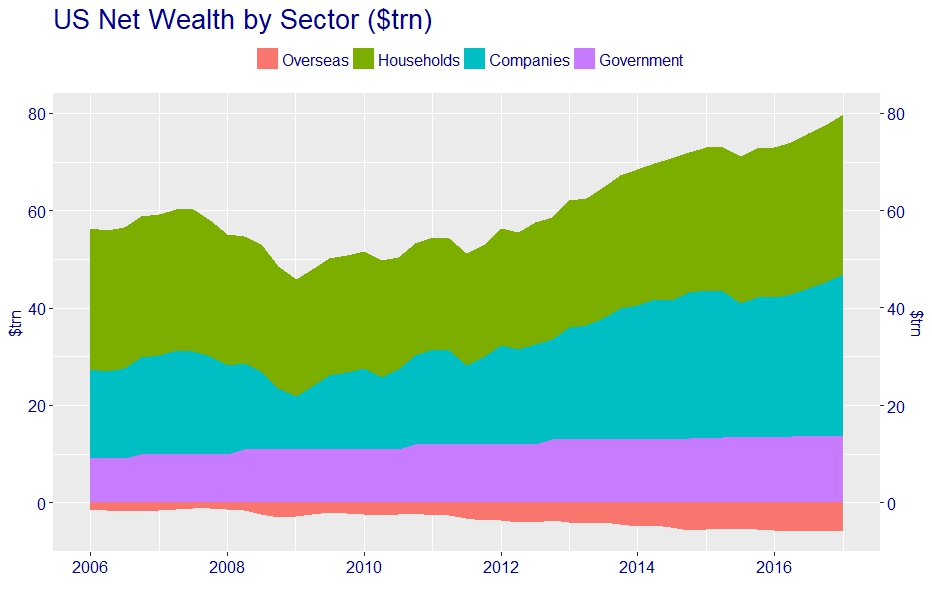 Theme 3 – From Accounting to Economics
We shall then prepare ourselves for economic analysis by reviewing simple theories of production, productivity and distribution (wages and profits). This means some revision of basic micro stuff – production functions, diminishing returns, economies of scale, marginal productivity & competitive factor markets. It would help move things along more smoothly if you could dust off your notes on these, if necessary.
This might be a good place to mention a fantastic, free, online resource. It is the CORE economy textbook, supported by the Institute for New Economic Thinking. Any time you need to review introductory economic material you could dip into it. A search for "production function" gives you this, for example.
Looking forward to seeing you all again next week and have a great weekend.
SPH
30 Jan 2018